What is SponsoredReviews Website?
First of all let me make it clear some basic term
paid reviews
or
sponsored reviews
, which will be used quite often in this post. When we accept some money, gifts or some freebies type to write about a website, its products or services, that will be known as paid review. SponsoredReviews.com is a marketplace for buying and selling sponsored reviews on a blog. As an advertiser, you can
advertise
your services with the blogs of your choice by paying some money for being reviewed honestly by blog owners with SponsoredReviews website. And as a blogger, you are able to
make money online
for doing your regular blogging activities. So a blogger, you will not be putting much effort in earning money with SponsoredReviews. You can get paid for the topics of your choice by writing
paid reviews with Sponsored Reviews website
.
Register As Blogger With SponsoredReviews
You need to sign up as Blogger with this website to start making money writing reviews for their advertisers. But there are some conditions you must satisfy to get your blog accepted into their marketplace:
You must have an active blog with 3 months age (minimum) and 10 posts high quality posts published (minimum)
Your blog should be in index in all major search engines
Your blog should contain original content only
If you have blog with good page rank, Alexa ranking and organic traffic, your chances of being accepted into Sponsored Reviews website marketplace are quite high
And most importantly, you should have an active Paypal account to accept your earnings
If you are fulfilling above conditions, you should
sign up
for blogger account with SponsoredReviews.com instantly.
How to Make Money Online As Blogger
Once your blog is accepted into SponsoredReviews marketplace, now its time to make some fast money while writing paid reviews for advertisers available on this website. You can edit your blog details by browsing Manage Blogs section in your Sponsored Reviews blogger account. You can change your blog details, category, pricing etc in this section. There are two ways, you can actually earn money with this website:
There are some advertisers who used to browse blogs mentioned in their advertising categories on SponsoredReviews.com. And when an advertiser finds your blog good enough to advertise their websites, they will offer you money-making opportunity in the form of paid reviews. And when you get such requests, you have to decide whether you want to write for that advertiser or not. There can be many factors you take into consideration while making such decisions like:

Are you writing about a website related to your blog niche
What kind of money is being offered to your review
Advertiser's website popularity etc




Most important thing, I would recommend you noticing is whether the advertiser website is related to your blog niche o not. If it's related simply accept the opportunity and if not, reject the paid review offer from that advertiser.

Second options will be using the bidding system available on SponsoredReviews website. Once your website is accepted into this paid to blog network, go to Find Advertisers section in your SponsoredReviews.com account and start making bids on available opportunities. While doing bids, you should make sure that you are sending bids for opportunities relevant to your blog niche. Suppose you are running a travel blog, you should accept paid review in this or similar categories only.
So you should keep browsing all opportunities available and keeps on sending bids for relevant offers only. By writing for relevant websites, you will be able to get some quality posts on your blog and will also get paid for the same. You may lose some of your blog readers if you start writing paid reviews about websites that are no way related to your blog topics. And when making bids you should keep your prices to reasonable otherwise you will not get much sponsored reviews make money opportunities. In some cases, you will receive counter pricing bid from advertisers, you can accept them, deny them or sender bid with another price.
Once your bid is accepted by an advertiser, it's time to write paid review for that advertiser's website. So you should check that opportunity and advertiser requirements. Once you have gone though the requirements, you should start working on its content. You will have one-week time available to submit a winning opportunity. Once you have made the paid post live on your blog, share its URL on SponsoredReviews. If everything goes fine as per the requirements, your paid review will be accepted, otherwise, you will need to do the needful.
Revenue Ratio
SponsoredReviews has been keeping a ratio of 50:50 with all bloggers in its marketplace. Suppose you end up writing for an opportunity of $50, you will be getting $25, as your earning into your account and rest of $25 will be going into SponsoredReviews account.
Payment Options
Currently, they are making payments to all its bloggers for their earnings into their Paypal accounts. So you need to have a Paypal account to transfer your earned money. And they are sending payments automatically in every two weeks time to all bloggers.
How Much Money I'm Able to Make with SponsoredReviews
I created a blogger account with this website in 2008 and had so far been able to earn $1631.95 with them. I was very active on SponsoredReviews for a year then. But now, I'm used to be busy with other projects that I did not get much time to look into this direction. But someone who got good blogs and time, can make some easy and quick money with SponsoredReviews website. Here is my total earnings Screen with this website if you are interested with this paid blogging network:
So you should
sign up
as blogger today with this website if you are interested in making money online writing paid reviews on your blogs.
Advertiser with Sponsored Reviews
Advertisers need high quality traffic and relevant backlinks for their websites to perform really high on search engines for their targeted terms. And this motive can be easily achieved by getting paid reviews for their website from top bloggers in their niche that are available in SponsoredReviews account. As an advertiser, you can buy reviews at cheap pricing and there are hundreds of options available for you to choose from. So as an advertiser, you will have lots of choices. Advertisers can make payments for reviews they buy by their credit cards. So
sign up now
as an advertiser now to create lots of buzz, traffic and targeted backlinks for your website.
Affiliate with SponsoredReviews
They have an active affiliate program to include high quality bloggers and advertisers into their network. As an affiliate, you can make up to $175 per advertiser and $75 per new blogger referred. I had so far made $180 by referring new advertisers and bloggers into their network. And this count will keep on increasing with time. Although, it's not a big amount, but I haven't made much efforts for getting this happen. I just send some good advertisers and publishers into their network using my affiliate link in the form of regular links and banners. Here is my affiliate earnings screen with this website: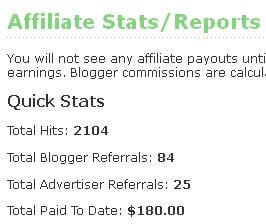 I tried my best to explain how one as a blogger and affiliate can make money with Sponsored Reviews website and what kind of benefits you will get being an advertiser with SponsoredReviews.com website. In case you still have some doubts or how you are using this website, please share in the comments section below.